The Story Behind Grace & Greene Clayworks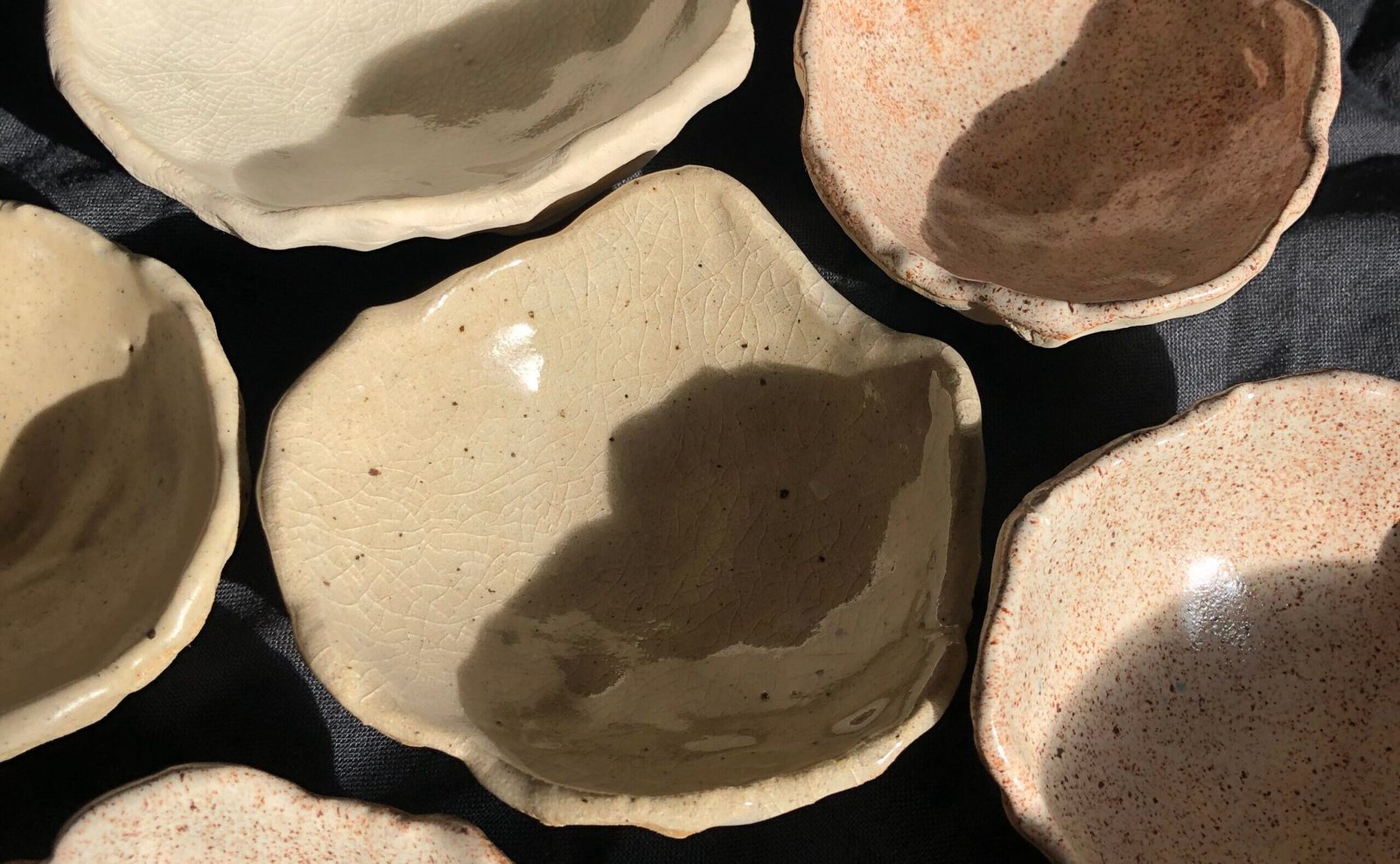 I've been doing pottery for over four years now, and started the year that I was studying for my Masters degree in Liverpool. I was working part time as a bar manager and doing a full time academic Masters, and I was desperate for a creative release.
I'm not sure why I was drawn to pottery. I know that I'd tried life drawing, and found it too quiet, tried embroidery, but never picked up the needle, and even tried collage, but it didn't come naturally. I wanted to learn a new skill, and to be able to create on a level that I hadn't before. I wanted to make something out of nothing, and bring something new into being. So I rang around the city, and found a drop in class at the Lark Lane Pottery.
I remember being a bit nervous to start the class (which isn't usually like me at all), so I brought along my friend for support. We learned how to handbuild there and then in the first class, and I made a large bowl, and then towards the end, I hopped on the wheel and made a cylinder. It felt good, but I loved the almost instantaneous satisfaction of having made something using just my two hands. It's the same feeling I get now.
As soon as I started bringing things home to show my friends and housemates, I was getting sales enquiries. To be honest, for about a year, I resisted them. I wanted to learn without being under pressure to perform, and I'm really glad I did that. But the time came when I got a commission I couldn't refuse – an offer to make a series of bowls for a brand new restaurant opening in Liverpool city centre. I was so excited, and I took on the project. Once the commission had been delivered, I loved visiting the restaurant and seeing people interact with the bowls I had made, or ask where they were from. At this point, I finally began to realise that I was at the stage where my work was ready to sell.
I stayed at Lark Lane Pottery in Liverpool for the next three years. The studio was at the end of my street, and the two teachers there (both named John) had managed to create an incredible community pottery that was welcoming and inclusive to everyone who needed it. At the end of my three year stint there, I was both included in an exhibition at Output Gallery and had a stall at the Summer Arts Market – two big milestones for me that helped to cement the way that my little business was going. I quickly made a website and had business cards printed. In fact, I printed so many, that two years later I'm still using them.
Relocating to Manchester meant that I had to leave Lark Lane Pottery. It was difficult – at times, the studio had felt like a second home to me. During periods of anxiety, it was a warm and dark place where I could retreat and forget about everything. Realising that that particular period of my life was over was bittersweet, but gradually I realised it was time to move on, and I secured a place as an open access studio member at 7 Spot Pottery in Salford.
Over the last year, I've seen my work develop in a way that I couldn't have imagined. Even since the lockdown period, when I said goodbye to pottery studio life and started making from home, my work has evolved into something completely different. At the beginning of lockdown, I looked out the window and saw the beauty of the trees around me. At the time, it seemed so poignant, being trapped inside, seeing neighbours at their windows experiencing the same thing. I'm sure this had an effect on my work.
For a while, I struggled to see myself as an artist, but I'm beginning to be comfortable using that word to describe myself now. I love making handmade pottery. Most important to my work is the idea that whatever I produce has been expressive in some way. In the organic form 'Fold' vases I've made, the indentations of my fingers represent the choices that I made during the making process. In this way, my output since the beginning of 2020 has been quite process based – and I've enjoyed that.
This pottery journey hasn't always been easy. I've experienced a lot of imposter syndrome – mainly to do with hand-building as opposed to throwing. I had it in my head that, not being a thrower, I was a cheat. I know that this isn't right now, but what helped me at that time was seeing the work that other handbuilders were producing on Instagram. As a handbuilder, I will never be able to produce work in batches. Now, that's part of my brand. Each item on Grace & Greene Clayworks is completely unique, and you'll be the only person that owns one like it in the world. I think that's quite special.