How To Set Up a Home Pottery Studio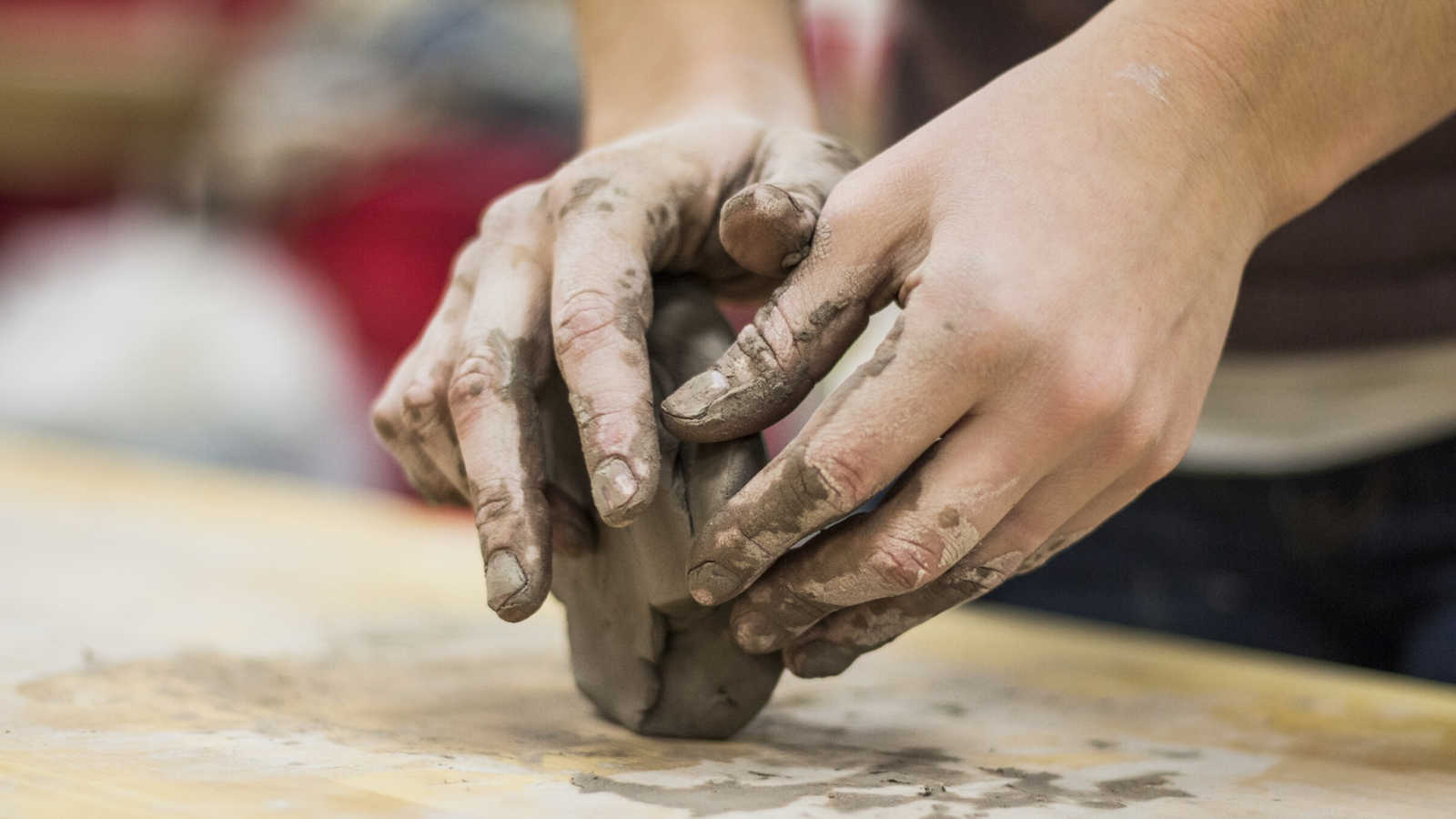 Life throws you curveballs, but one of the things that we least expected in 2020 was a global pandemic. Of course, as a result of that, the open access studio that I pay membership for wasn't able to open, and so I took delivery of all my pottery equipment and started to work from home in our small, two-bedroomed, 3rd floor flat.
Studio storage
Storing thing safely will minimise dust but also keep your work/living space tidy. I keep my drying pots on an area of the floor where they will be undisturbed, but everything else is kept outside the front door to minimise the mess and dust in our living space.
Managing pottery health and safety at home
One of the most important things in any pottery studio is health and safety. Dust in dry clay and bisque fired clay is toxic – it contains silica which can lead to some really nasty lung disease through too much exposure. So naturally, when working at home on the dining table or in the study, the main concern is managing dust.
As a handbuilder, I produce a lot less mess and dust than throwers. This also means that I recycle a lot less clay, which gets rid of a messy process. But there was one key thing that I invested in: a PVC wipeable table cloth.
Setting up a home pottery studio
Firstly, clear the table. I work off the kitchen table, so the fruit bowl, glasses of water, everything gets moved onto the kitchen side. I also move the pots and pans that we store in a trolley nearby so that dust doesn't have a chance to settle there.
Put the PVC table cloth down over the whole table.
Put my canvas down.
Get materials out from storage (I store them outside the front door of our flat so that what mess there is isn't in our living space).
Start potting!
Cleaning down a home pottery studio
As you can see, I'm very thorough! And I have to admit, sometimes this clean up programme means that I can't be bothered to even start potting. I'd say I've got this down to a fine art now though, it usually takes me about 25 minutes for a full clean up (excluding shower).
The first thing I do is remove the tools from the messy table. I put them in the bathroom sink to clean so that they are away from the kitchen worksurfaces and any food preparation areas, just for health and safety purposes.
Then I work on cleaning the canvas. Sometimes it doesn't need too much of a clean – just a wipe or gentle shake to get rid of some clay crumbs, and other times it needs a deeper clean. For a deeper clean, I use a sponge and some water to scrub at it until the water in the jug looks relatively clean. Then I fold it away outside in my pottery storage crate.
Then I head to clean up my tools. I use a sponge and am careful that no large bits of clay go down the sink – they're not good for plumbing! Then I dry them off, and store them outside in my storage crate.
Then I'm back to the kitchen table. I spray and wipe down the PVC tablecloth, cleaning up with kitchen roll. Any dirty kitchen roll goes in a plastic bag, which I then take out to the bin separate to our general waste. Then I dry off the tablecloth and fold it with the PVC side facing out, and store it outside in the crate.
Then I spray the wooden table surface and wipe it with more kitchen roll, which again, goes in the plastic bag after use. I also spray and wipe down the chair I've been sitting on and any obviously dirty spots on our kitchen floor.
After that, I bring out the hoover, and using the plastic nozzle attachment vacuum up any clay crumbs. Honestly, there's very rarely anything to vacuum up, but at this stage it's for peace of mind!
Next up, if it's been a particularly messy session, out comes the mop. If not, I get on my hands and knees and wipe around the table area with a wet kitchen towel, which then goes in the plastic bag after use.
Last up, I clean myself. My apron is folded up and put outside in the crate, the clothes I've been wearing go straight into the washer, and I either wash up to my elbows or hop in the shower.